Jurassic World: Dominion Dominates Fandom Wikis - The Loop
Play Sound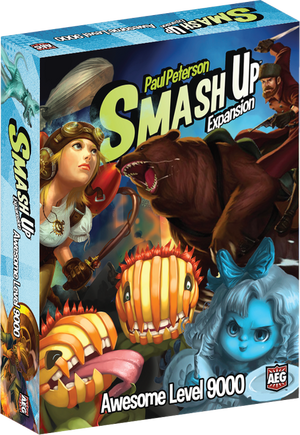 Awesome level... rising...

Thought you had enough awesome with Pirates, Ninjas, and Zombies? Well, get a load of this, bucko: Killer Plants, Steampunks, Ghosts, and Bear Cavalry are here to smash into your game!

Plants grow out of control. Steampunks build on bases. Ghosts shriek out of the ether, and Bear Cavalry scares away the opposition. Two players can play with just these decks, or mix them with original-recipe Smash Up for up to 4 players, and feel your awesome level skyrocket!

Feels good, don't it?
- Awesome Level 9000 box description
Awesome Level 9000 is the 2nd Smash Up set, which contains 4 new factions, 8 new bases and a rulebook. This set also includes the same bases as the Core Set with enlarged text to replace the previous bases. This set is also the first to contain VP tokens as a means of tracking victory points.
Combined with the Core Set, there are 12 factions and 24 bases, which make 66 possible pairs of factions.
Cards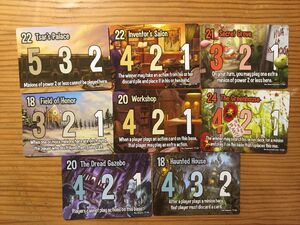 Tokens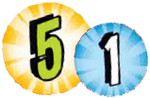 White 1 / blue background
Green 5 / yellow background
Rules
Main article: Rules
The rulebook for this set can be found here.
This set made these changes to the rules:
Added the definition of Talent.
This set also added these clarifications:
Trivia
The name of the set is a reference to Dragon Ball Z.
In other languages
| Language | Name | Translation (if different) | Note |
| --- | --- | --- | --- |
| Chinese | 霸氣無雙9000級 | | |
| Chinese | 鬼魂+殺人植物 | Ghosts + Killer Plants | Repackaged and split into two sets |
| Chinese | 黑熊騎兵+蒸汽朋克 | Bear Cavalry + Steampunks | Repackaged and split into two sets |
| French | Même pas mort | Not even dead | |
| German | Wahnsinnslevel 9000 | Madness level 9000 | |
| Greek | Άααλλο Επίπεδο | Another level | |
| Italian | SuperMegaUltra 9000 | | |
| Polish | Awesome Level 9000 | | |
| Portuguese | Ficção Cientifica em dose dupla Nível 8000 | Science Fiction Dual Level 8000 | Also contains the Science Fiction Double Feature set |
| Russian | Казаки против помидоров | Cossacks against tomatoes | |
| Spanish | Nivel de alucine 9000 | | |