We're Getting Mutants in the MCU - The Loop
Play Sound
What do pirates, ninjas, robots, zombies, aliens, wizards, and some other things have in common? They're all trying to take over the world! But they can't do it alone--so they're teaming up.

Every combo brings a different experience in this fast-paced shufflebuilding game. Take two 20-card decks, smash them together, and then rock your opponents'faces!

Each faction has a different style: Pirates move cards. Zombies come back from the discard. Dinosaurs are just freaking huge. Each pairing creates different gameplay. And each game is a different throw-down!

Is Smash Up a game you can live without? Not if you're awesome. Choose a side. Chose two! And start the carnage!
- Core Set box description
The Core Set is the original Smash Up game, and as such is the first set. It includes 8 factions, 16 bases, a rulebook and a storage tray.
There are 28 possible pairs of factions from this set alone.
Next set: Awesome Level 9000
Cards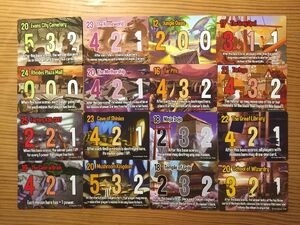 Rules
Main article: Rules
The rulebook for this set can be found here.
Trivia
During early development, the game was called "PNZR", which stood for Pirates-Ninjas-Zombies-Robots, and only included those four factions. Additional factions were created so the game could be played with up to 4 players.
In other languages
| Language | Name |
| --- | --- |
| Chinese | 大殺四方 |
| Czech | Hustá mela |
| French | Smash Up |
| German | Smash Up |
| Greek | Smash Up |
| Hebrew | !התנגשות |
| Italian | Smash Up |
| Japanese | スマッシュアップ |
| Polish | Smash Up |
| Portuguese | Smash Up |
| Russian | Замес |
| Spanish | Smash Up |
| Turkish | Smash Up |