Smash Up is back with even more wild factions in the mix! Science Fiction Double Feature brings four new groups to the base-smashing business, with abilities unlike those seen before. The Time Travelers will allow you to reuse and replay your cards time and time again. The Cyborg Apes take actions that attach to your minions to a whole new level. Super Spies use their mojo in espionage to plot out the future of you and your opponents, while the Shapeshifters could be anyone...

Smash Up: Science Fiction Double Feature is an expansion to the wildly popular card game Smash Up where you take two completely separate genres, smash them up, and try to conquer bases on your way to ultimate victory. This expansion features Time Travelers, Cyborg Apes, Super Spies and Shapeshifters. Enough for two players and fully compatible with any other Smash Up product.
- Science Fiction Double Feature box description
Science Fiction Double Feature is the 4th Smash Up set. It contains 4 new factions, 8 new bases, a rulebook and VP tokens.
Combined with all previous sets, there are 20 factions and 40 bases, which make 190 possible pairs of factions.
Cards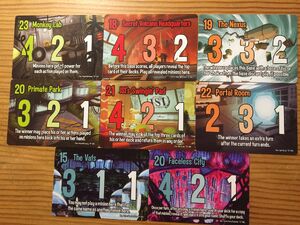 Tokens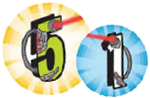 White 1 with cybernetic implants and shooting a laser / blue background
Green 5 with cybernetic implants and shooting a laser / yellow background
Rules
Main article: Rules
The rulebook for this set can be found here.
This set introduced the following changes to the rules:
If Madness cards cause a tie at the end of the game, the player with the least madness cards wins. Though it doesn't clarify what happens if there is another tie.
Trivia
In other languages
| Language | Name | Translation (if different) | Note |
| --- | --- | --- | --- |
| French | Séries B | B Movies | |
| German | Science Fiction Double Feature | | |
| Italian | Ciak, Motore, Fazione! | Clap, Motor, Faction! | |
| Portuguese | Ficção Cientifica em dose dupla Nível 8000 | Science Fiction Dual Level 8000 | Also contains the Awesome Level 9000 set |
| Spanish | Ciencia ficción por partida doble | | |