[BOX DESCRIPTION]
- Smash Up Knights of the Round Table insert
Smash Up Knights of the Round Table is a single-faction Smash Up pack that will be available on AEG's online store. It contains the Knights of the Round Table faction, 2 bases and a divider.
Combined with all previous sets, there are 84 factions and 169 bases, which make 3486 possible pairs of factions.
Cards
Factions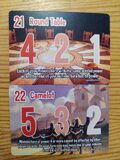 Rules
Main article: Rules
The rulebook for this set can be found here (link to be added).
(List any additions and changes to the rules)
In other languages
Trivia