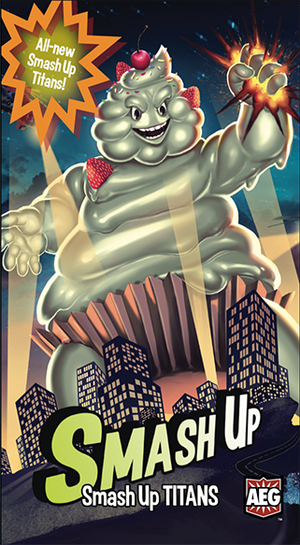 These booster style packs contain all-new Smash Up Titans, for a selection of classic Smash Up factions! You'll find Titans for the Super Spies, Explorers, and more. Give these out to anyone who attends your Smash Up event, enjoys a Smash Up demonstration at your store, or in any other method you prefer.
- TITANS Event Kit insert
Smash Up TITANS was a Smash Up pack that was first released as part of the TITANS Event Kit and is currently available on AEG's online store. It contains 16 Titans for pre-Big in Japan factions.
Cards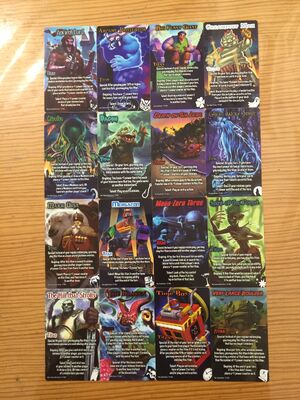 Rules
Main article: Rules
While no insert was sent along with the pack, an insert is available online.
The insert contained clarifications for several Titans.
In other languages
| Language | Name | Note |
| --- | --- | --- |
| French | Tournoi TITANS Saison 1 | Contains 8 of the 16 titans. |
| French | Tournoi TITANS Saison 2 | Contains the remaining 8 titans. |
| German | Titanen Flowpack | |
Trivia
Other titans were tested, but only 16 of them were released.
Among the unreleased titans, an alternate version of Cthulhu was considered. This one had no affiliated faction so any player could summon it, but the player who plays it wouldn't control it anyway as that version of Cthulhu works against all the players once in play.

Its ability would have been "Special: At the start of their turn, any player may place one of their minions back in the box to play or move Cthulhu to its base. Each other player with minions there draws a Madness card. Ongoing: After a player plays or draws a Madness card, they place a +1 power counter on this titan. This titan has no faction, owner, or controller. When this base scores, if Cthulhu has more power here than the base winner, all minions here go back to the box instead of the discard pile, and no player gets victory points for the base. Ongoing: At the start of a player's turn, if they have a minion here, they draw a Madness card."