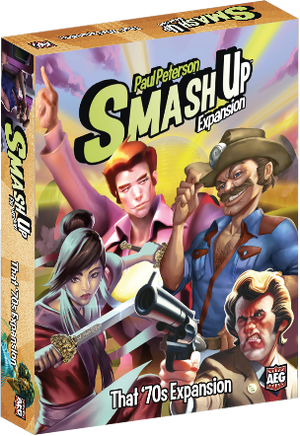 Can You Dig It?

Right on! Hop in the Waywaywayback Machine and join Smash Up in the dy-no-mite '70s! Few decades have had as much style as the '70s, and it created some memorable factions we knew you'd want to use to smash bases. We had to give them to you, because, who loves ya, baby?

The Disco Dancers know the strength of dancing together, and can really shake things up when they copy each other. The Kung Fu Fighters make power flow like water among themselves, and even from their enemies. The Truckers move themselves and their load across the bases, all while sticking it to corrupt law enforcement. And the Vigilantes dish out hard-nosed justice like no others. Solid!
- That '70s Expansion box description
That '70s Expansion is the 13th Smash Up set (The All Stars Event Kit and the Sheep giveaway aren't considered by AEG as regular sets.) It contains 4 new factions, 8 new bases, a rulebook, and VP tokens.
Combined with all previous sets, there are 60 factions and 120 bases, which make 1770 possible pairs of factions.
Cards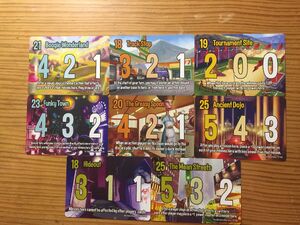 Tokens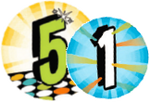 White 1 with multicolor light beams coming out of it, in a similar way as a disco ball / blue background
Green 5 on a disco dance floor / yellow background
Rules
Main article: Rules
The rulebook for this set can be found here.
This set made a few modifications to the rules relative to the previous rulebook in Big in Japan:
Changed the rule to decide who goes first.
An example points toward transferring +1 power counters between minions counting as directly affecting the minions (and therefore also as directly increasing/decreasing their power)
This set also introduced the following clarifications:
Added the definition of "standard".
Clarified that "an action" means any action in play, unless stated otherwise, with the notable exception that "Play an action" means one from the hand. (Previously, it only mentioned "a minion")
Clarified that power counters on minions modify their powers (and should therefore be taken into account when targeting minions of certain power).
Clarified that power counters on titans modify their powers. Note: That technically isn't correct since "titans by themselves do not have power" as stated in the Big in Japan rulebook.
Clarified that power counters don't do anything on action and base cards. One notable exception is Summon Wolves, but that's because the card's ability itself takes them into account and card text beats rules text.
Trivia
The name of the set is a reference to the TV show "That '70s Show".
Its factions are based on iconic trends from the 70s culture:

Disco Dancers are based on Disco, a musical style popular in the 70s,
Kung Fu Fighters are based on the huge popularity of Kung Fu movies during the 70s, most notably due to Bruce Lee's career,
Truckers are based on trucker culture whose popularity peaked during the 70s,
Vigilantes are based on various crime, detective and blaxploitation movies and TV shows that were aired in the 70s.
In other languages
| Language | Name | Translation (if different) | Note |
| --- | --- | --- | --- |
| Chinese | 功夫戰士&迪斯科舞者 | Kung Fu Warrior & Disco Dancer | Split into two sets |
| Chinese | 卡車司機&民間義警 | Truck Driver & Volunteer Police | Split into two sets |
| French | Ces Années-Là | In those years | |
| German | Die wilden 70er | The wild 70s | |