We're Getting Mutants in the MCU - The Loop
Play Sound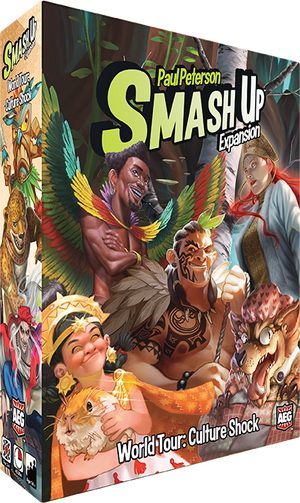 The World Tour continues!

In order to see every continent on our world tour, we just had to include five factions! One entire free faction of fun for the price of four!

Culture Shock takes us through the folk and fairy tales of: Russia, where minions are frequently transformed; West Africa, where sharing stories and cards is valued; and Germany, where uniting characters from the same tale gives multiple benefits. We also look at the incredible histories of: the Inca Empire, known for its roads and monumental architecture; and Polynesians, who spread out on as many islands as possible. Did we get all the details of these rich cultures right? Heck no, we make silly card games. Don't tell anyone on Twitter.
- World Tour: Culture Shock box description
World Tour: Culture Shock is the 17th Smash Up set (The Smash Up Penguins released before that is a promotional set and isn't considered by AEG as a regular set.) It contains 5 new factions, 11 new bases, a rulebook, and VP tokens.
Combined with all previous sets, there are 74 factions and 149 bases, which make 2701 possible pairs of factions.
Name
AEG's website named this set World Tour Part 2.
Cards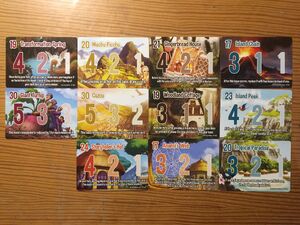 Tokens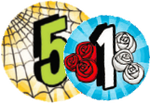 White 1 surrounded by red and white roses / blue background
Green 5 caught in a spider's web / yellow background
Rules
Main article: Rules
The rulebook for this set can be found here.
This set made a few modifications to the rules relative to the previous rulebook in World Tour: International Incident:
Changed the Mulligan rule so you shuffle your old hand into your deck rather than discarding it.
Changed the definition of "standard" to include all actions that don't stay in play when played, therefore excluding actions that are buried when played.
"During your turn" no longer means during your Play Cards phase.
Added "play off the top of a deck" keyword.
If you have to reveal cards from your deck until you reveal a particular card, you stop revealing if your deck runs out. You do not shuffle your discard pile into a new deck and continue revealing from there until find the particular card.
Trivia
In other languages
| Language | Name |
| --- | --- |
| Chinese | 世界之旅:文化衝擊 |
| French | Choc des Cultures |
| German | Kulturschock |
| Russian | Культурный шок |