Come along on the Smash Up World Tour!

International Incident is the start of a year-long trip around the four corners of the world to visit some of the coolest heroes that different cultures have to offer! From the cold of Canada to the heat of Mexico and beyond, this first World Tour set adds awesome factions to your fight for the bases.

The Luchadores bring their high-flying, death-defying wrestling combinations to the fight, and the Mounties are at their strongest while they get their man and keep the Great White North safe! The Musketeers use their explosive action chains to gallantly defeat enemies, and the Sumo Wrestlers bulk up and throw their weight around, knocking their enemies away from the base.

World Tour: International Incident box description
World Tour: International Incident is the 16th Smash Up set. It contains 4 new factions, 8 new bases, a rulebook, and VP tokens. Unlike other sets, this also contains a World Tour VIP Backstage Pass, which you can show at AEG's booth during various gaming events of 2019 (GAMA, Origins, GenCon, Essen, etc.) to get prizes such as previews for future sets, foiled cards, Smash Up pins, patches, etc.
Combined with all previous sets, there are 68 factions and 136 bases, which make 2278 possible pairs of factions.
Name
AEG's website named this set World Tour Part 1.
Cards
Tokens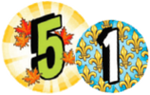 White 1 / blue background with a semy of fleur-de-lys
Green 5 surrounded by maple leaves / yellow background
Rules
Main article: Rules
The rulebook for this set can be found here.
This set made a few modifications to the rules relative to the previous rulebook in Oops, You Did It Again:
Changed the rule to decide who goes first.
This set also made the following minor changes:
Updated the rule for checking when a base scores. Now you check the total power on the base, rather than the total of each player's total power, since there are now cards that can contribute power toward breaking the base without giving power to any player, namely minions with Pin on them.
This set also introduced the following clarifications:
To play an action, you show it first before doing what it says.
Clarified that "during your turn" means the same thing as "on your turn".
Clarified that the Card Resolution Order applies to playing a card that would "trigger or invoke other cards", as well as those that "interrupt other cards in the middle of what they are doing".
Clarified that some Ongoing abilities may not be active immediately when in play but may trigger at a later time.
Clarified that Ongoing abilities don't work from the hand, deck or discard pile.
Clarified that the keyword "Place" also applies to adding +1 power counters on a card.
Trivia
In other languages
| Language | Name | Translation (if different) |
| --- | --- | --- |
| French | Tournée Mondiale : Incident Diplomatique | World Tour: Diplomatic Incident |
| German | Widerstand zwecklos | Resistance is futile |