This page is about a cancelled set. For the set that replaced it, see Smash Up Penguins.
This set was the planned event kit for the summer 2019 before its cancellation. It was supposed to be released after World Tour: International Incident and before World Tour: Culture Shock
Similar to the All Stars Event Kit and the TITANS Event Kit, World Tour Event Kit was supposed to be a special Smash Up set, only available for retailers. It was to contain 8 "Smash Up Penguins" faction packs (each containing a copy of the Penguins faction, 2 bases and a divider), 4 packs of 50 Smash Up card sleeves each, a set of VP tokens and a token bag.
Presumably, just like before, AEG would have no plans to sell the sleeves, wooden tokens and drawstring bag. On the other hand, the "Smash Up Penguins" packs are available for purchase on AEG's online store despite the cancellation of the event kit.
Combined with all previous sets, there would have been 69 factions and 138 bases, which would make 2346 possible pairs of factions.
This set would not have contained a rulebook or any rules changes, however it was to come with an insert with rule clarifications for the Penguins.
Cards
Factions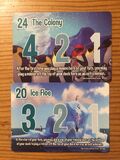 Bases
Tokens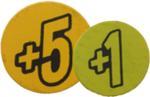 Wooden lime green "+1" token
Wooden yellow "+5" token
Rules
Main article: Rules
The rulebook for this set can be found online.
This set made a few modifications to the rules relative to the previous rulebook in World Tour: International Incident:
Added "play off the top of a deck" keyword.
If you have to reveal cards from your deck until you reveal a particular card, you stop revealing if your deck runs out. You do not shuffle your discard pile into a new deck and continue revealing from there until find the particular card.
Trivia